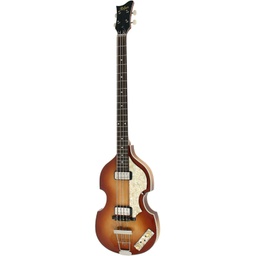 Violin Bass - "Artist" - 63 (R&L)
1,959.09

 €
1,959.09

 €

Availability:

Not in stock

Delivery time:

Approx. 90 days

Item number:

H500/1-63-AR-0
1,959.09

 €
Violin Bass - "Artist" - 63 (R&L)
Handmade in Germany.
The new Artist series 500/1 Violin Bass.
Using our new efficient production, we can offer a top-quality, German-made bass at an excellent price. It is ideal for those seeking an authentic Violin Bass: artists, enthusiasts, Beatle bands and anyone who desires the unique tone of this world-famous instrument.
This model is based on the 500/1 as made in 1963, with twin "Staple" pickups, 2-on-a-strip tuners, fully hollow body and slim unbound short-scale 2 piece neck. There is, of course, the renowned control panel, the pearloid scratchplate, and with the flame maple back and sides and a spruce top, it is authentic in every way. The hi-gloss poly finish ensures that this bass will take the knocks and bangs of life on the road. Fitted with flatwound strings the tone is all you would  expect of a traditional 500/1 bass, the great sound from the 1960s.
Supplied with a Höfner quality case. 
Available right or left handed.