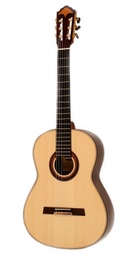 Master Series HM96 "Gigue"
2,602.33

 €
2,602.33

 €

Availability:

Not in stock

Delivery time:

Approx. 90 days
2,602.33

 €
Master Series HM96 "Gigue"
Handmade in Germany.
The HM96-0 'Gigue' is a professional level master guitar hand-built in Germany to the highest standards of craftmanship and design by our luthiers.
This classical guitar is produced using select tonewoods air seasoned over many years in our own wood stores. The back and sides are from selected Cocobolo and feature a high gloss violin varnish whilst the AAA spruce top is given a wafer thin polish. It has an ebony keyboard, an oil-finished neck and a stepped head plate.
An exceptional instrument for those looking for a classical guitar with wonderful tonal characteristics built to the highest standards, it comes with a deluxe Höfner guitar case to ensure your sound investment will always be at your side.