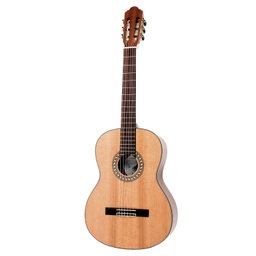 Carmencita Series HC504
133.91

 €
133.91

 €

Availability:

Not in stock

Delivery time:

Approx. 90 days
133.91

 €
The Carmencita HC504 is proof that great value beginner's guitars need not skimp on quality. A best seller in this price category, the HC504 combines functionality with a stylish design. From the black walnut fingerboard and bridge, to the solid cedar top and mahogany body, this is a classical guitar that looks as good as it sounds. 
And what a sound! The serious musician will appreciate its full and warm tonal characteristics while welcoming the playability that comes from the classic style – always an important factor for both seasoned players and beginners alike.
The Hofner Carmencita guitars  have been made according to our exact specifications for more than two decades. Every single instrument is carefully checked, tuned and played by our German luthiers before delivery. This sets our range apart from everything else on the market in this price bracket. The smaller sized guitars comply exactly with the recommendations of the European Teacher Association EGTA.     
                                4/4          7/8             3/4            1/2

Scale                 65cm,     63cm,        58cm,       53cm  
Nut Width         52mm,    52mm,       45mm,     44mm